We were delighted to announce long-term partnerships with two innovative charities working to reduce recidivism and transform the lives of men and women who have experience of the UK prison system. The Foundation will donate £90,000 over three years to both Bounce Back and Clean Break and will partner with both charities to provide further support through volunteering, pro bono assistance and advocacy.
Alison Jefferis, Chair of Columbia Threadneedle Foundation, said: "We are pleased to make this commitment to two thriving charities doing vitally important work with men and women in prison or with experience of prison in the UK. Through their different approaches, both charities help their clients build skills and confidence and ultimately find a path forward to a new and fulfilling future. Alongside financial support, I am excited about the opportunities for our teams to work together for mutual development and benefit."
Clean Break was set up in 1979 by two women prisoners who believed that theatre could bring the hidden stories of imprisoned women to a wider audience. Through theatre and tailored support, Clean Break builds women's resilience, skills and creativity and gives them a voice. Through a unique repertory of new plays and theatre-based creative learning, Clean Break raises difficult questions, inspires debate, and helps to effect profound and positive change in the lives of women with experience of the criminal justice system. The Foundation will support Clean Break's Members Programme, which is open to women aged 17 and above who have lived experience of the criminal justice system or are at risk of entering it.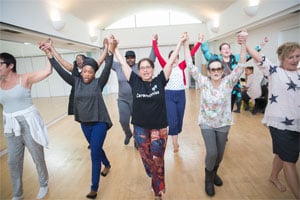 Bounce Back charity and social enterprise works both in and out of prison to train and prepare people for employment. They train in skills that are in demand including painting and decorating, scaffolding, dry lining and aerial window cleaning. Fully supporting people throughout their time in prison and through the gate, Bounce Back act as a 'bridge' working with individuals for up to a year as they return to their lives and into work. Columbia Threadneedle Foundation will provide capacity funding including essential infrastructure and case management resources.