The use of software solutions by companies to improve competitiveness, efficiency and productivity, and reduce costs, is picking up pace – just in time, as a shortage of skilled workers continues to bite
Over several decades Japan has built a reputation for being a technological powerhouse. Whether in consumer electronics, robotics or infrastructure, it has developed world-leading hardware products. Today, Japanese technology is critical in the development of 5G smartphones, electric vehicles and data centres.
However, when it comes to software there are many examples that highlight how the country has fallen well behind the rest of the world (Figure 1). According to Gartner1, Japan is seven years behind the US in the adoption of cloud computing technology. It predicts that by 2022 14% of US IT spending will be on cloud services. In comparison, the level for Japan will rise to just 4.4%, up from 3% in 2019. In addition, the IMD World Competitiveness Ranking (2020) put Japan 27 in digital competitiveness2; in 2018, penetration of software-as-a-service (SaaS) products against the overall accounting and HR software market was just 14% in Japan versus more than 50% in the US3; and in 2019 spending on customer experience and relationship management (CRM) software was three times higher in the UK and five times higher in the US than in Japan as a percentage of overall sales and marketing expenses.4
Figure 1: Japan's digital scorecard 2020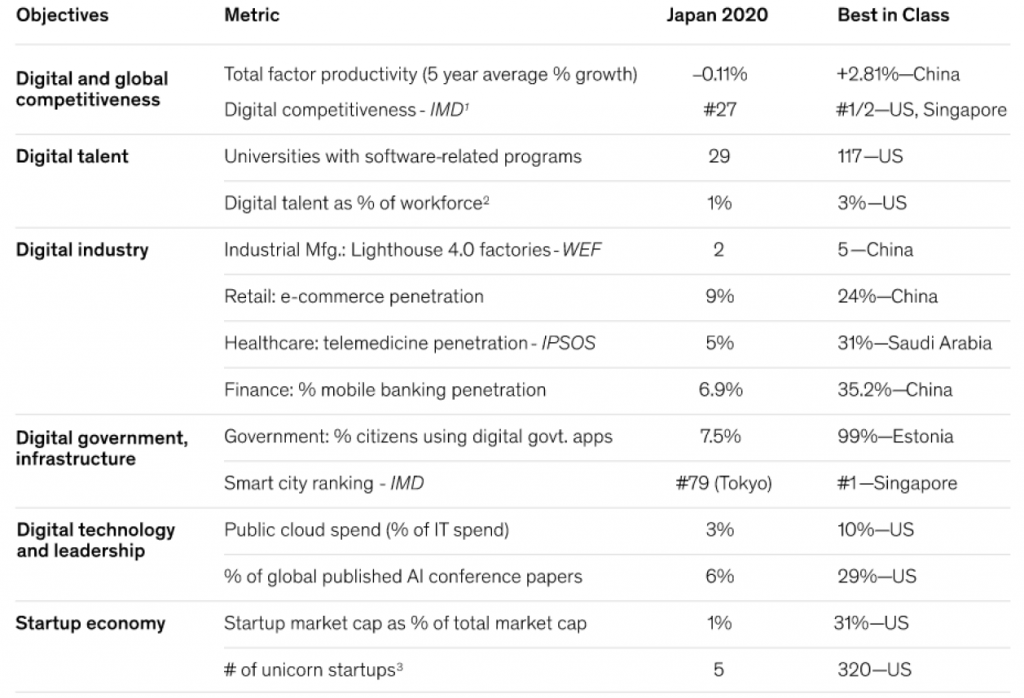 Source: McKinsey, How Japan can make digital 'big moves' to drive growth and productivity, 24 February 20211IMD World Digital Competitiveness ranking measures the capacity and readiness of 63 economies to adopt and explore digital technologies as a key driver for economic transformation in business, government and wider society. 2Engineering talent including software engineering, data engineers and developers. Excludes consultants, project managers and process related occupations. 3Companies with a valuation >$1 billion, including public companies that received such valuation before IPO: Mercari, Preferred Networks, Smartnews, Liquid, Playco.
Why is a country that is so technologically advanced in one area, so behind in another? Regulatory red tape hasn't helped the adoption of software. For example, until 2020 many administrative forms used by government authorities needed to be signed off in person using "hanko" ink stamps, a practice dating back to the eighth century.5 But there are also cultural barriers: shūshin koyō, or lifetime employment, has historically been a central feature of Japan's labour market. With many large companies traditionally employing engineers responsible for developing and maintaining customised IT systems, they were reluctant to replace these systems with newer technologies, such as cloud computing, especially if that meant existing workers would be left redundant.
However, it has become increasingly clear that Japan needs to embrace the use of innovative software solutions. At a company level the benefits of adopting cloud-based technologies are clear: without the need to develop software internally, companies can pick and choose from the best externally developed products, becoming more agile and efficient in the process. Companies can also get better results by using fewer resources and spending less time and money developing software internally.
Better software also gives companies better insights into their businesses. Effective use of software can give a company an advantage over its competitors, and those that fall behind may find it difficult to catch up. Cosmetics company Shiseido 6, for example, uses software to collect, monitor and review sales data on a daily basis, which in turn enables it to better allocate sales and marketing expenses, manage its supply chain more efficiently and develop new products that meet customer needs.
At a macroeconomic level, Japan suffers from severe labour shortages. At the end of 2019 the unemployment rate was just 2.2%, its lowest level since 1992. There were more than three jobs for every two applicants. Even in 2020 when the global economy entered a recession as it struggled to cope with the spread of Covid-19, surveys in Japan still highlighted an insufficient availability of labour.7 Many companies are struggling to find the talent needed to grow or even run their businesses. Companies need to change how they operate and are turning to software for solutions.
Figure 2: Employment conditions (all industries) – labour surplus or shortages (% points)

Source: https://www.boj.or.jp/en/statistics/tk/tankan03a.htm/
Improved corporate governance has helped Japanese companies understand the benefits of changing their business practices, including adopting new technologies, to enhance their value. The government now also recognises the need for Japan to change. In his inaugural speech as prime minister, Yoshihide Suga spoke of "the necessity of digital transformation"8 and announced the establishment of a digital agency to drive change. Economist Susumu Takahashi, who serves as vice chair of the reform panel, has suggested that the boost to innovation and productivity that comes from rapid digitalisation could help raise Japan's potential economic growth rate from less than 1% to at least 2%.9 Digitalisation and improving corporate productivity are now central parts of Prime Minister Suga's structural reform agenda.
Change brings opportunity
Corporate Japan is now leading the charge in developing new products and services to help digitise the country. For example, HR technology and marketing media company Recruit is developing a set of software tools to help small and medium businesses digitise their operations. Its Air BusinessTools, a suite of SaaS-based solutions for business and management support, range from cashless payment support to online reception and waiting list management. The idea is to allow companies to devote fewer resources to back-office related work and more to their core operations, enhancing productivity and profitability.
But it's not just large companies that are looking to profit from Japan's need to embrace digital transformation. The convergence of technological enablement and social need catalysed the establishment of a host of young, dynamic SaaS companies led by visionary founders that want to use software to solve the problems facing Japan today. To name a few, cloud native ERP provider Freee formed in 2012 and listed in 2019, no-code mobile app development company Yappli was founded in 2013 and listed in 2020, and real estate AI tech company SRE was established in 2014 and also listed in 2020. Many such companies have already been rewarded with explosive growth, but see ample room for this to continue for years or even decades to come.
Japan was slow to embrace digitalisation, but now wants to catch up. It certainly has the tools to do so. It has an educated population and high-quality digital infrastructure. It has case studies available that it can copy in the form of other economies and companies that have successfully embraced digitalisation. And now it has the political and social determination to follow in their footsteps.
Digitalisation can help transform Japan's economic and corporate landscape for the better, helping to alleviate labour shortages, boost productivity and economic growth, and improve corporate competitiveness and profitability.
The country's digitalisation trend is still at a very early stage. Over time there will be huge opportunities available to companies that help enable change. This will inevitably give rise to many long-term investment opportunities. As always, we will be looking to invest in great, innovative companies that will be the long-term winners as the country continues to evolve. We believe It is an exciting time to invest in Japan.