In his inaugural policy speech to the Diet (the national legislature) on 26 October, Japan's new prime minister, Yoshihide Suga, announced plans for the country to achieve carbon neutrality by 20501. The timeline brings Japan in line with the EU2 , which also aims to reduce overall greenhouse gas emissions to zero by 2050. China recently announced targets to achieve this by 20603.
Climate change could be devastating for our world. The average temperature of the earth's surface has risen by 1°C since the pre-industrial period, and the impact of this warming is becoming increasingly apparent. Natural disasters including droughts, flooding, wildfires and hurricanes have become more frequent and more extreme. Based on policies in place around the world, temperatures could rise by 2.9°C by the end of the century 4. The human and economic impact of such an outcome would be disastrous. 
Global average temperature anomaly 1850-2016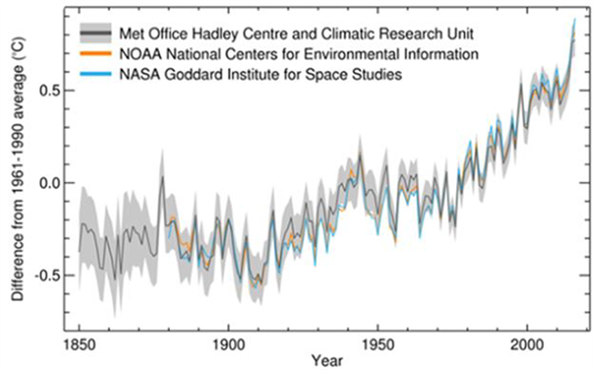 Source: www.metoffice.gov.uk/weather/climate-change/what-is-climate-change
Against this backdrop we welcome Japan's new targets. We hope that over time the country will take an even more aggressive stance towards eliminating carbon emissions. Prime Minister Suga has a reputation as someone who can "get things done". We very much hope he demonstrates this as his attention turns to decarbonising society. We believe Japan's corporate sector, with its proactive attitude towards both technological innovation and creating a better society, can be a powerful driving force behind achieving these targets.
An example of a Japanese company that can contribute to building a carbon-neutral society is Rohm5 , which makes highly reliable and energy-efficient semiconductor circuits. It is also a leader in silicon carbide technology, a material that is lighter and more energy efficient than silicon. By the end of 2019, 100% of Rohm's products in development could contribute to lower CO2 emissions5. Demand for its products from automotive customers is rising, driven by the electrification of powertrains. Transport contributes around a quarter of Europe's carbon dioxide emissions5 and is an area that must be addressed if we are to combat climate change. As penetration of electric vehicles rises, we expect demand for Rohm's value-added products to increase, which will support higher sales and margins.
Daikin leverages inverter technology to develop air conditioners that are significantly more energy-efficient than the market average. It also makes its own refrigerants and has been a leader in developing fluorocarbons with low global warming impact. In 2018, 51% of sales came from "super green products" that consume at least 30% less electricity than conventional products and use refrigerants with at least two-thirds less global warming potential than conventional refrigerants, while another 42% of sales were from products that satisfied at least one of these conditions . Daikin's long history of focusing on innovative and environmentally friendly products has helped it develop a competitive edge in the industry. We expect demand for these products to continue to rise, putting Daikin in a strong position to sustainably grow its earnings.
Every company we invest in operates within the real world. Every company contributes to, and is affected by, climate change to a lesser or greater extent. As investors we need to understand these relationships. We want to avoid companies whose business models may be disrupted by the urgent need to limit and reduce greenhouse gas emissions. We will continue to look for opportunities to invest in high quality companies that can be part of a solution to limit the effects of climate change on future generations.