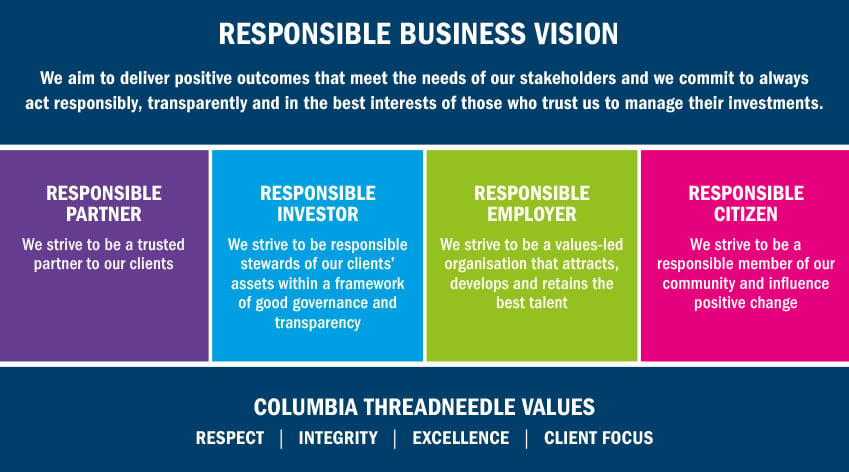 We aim to deliver positive outcomes that meet the needs of our stakeholders and we commit to always act responsibly, transparently and in the best interests of those who trust us to manage their investments.
A leading global asset management group, Columbia Threadneedle Investments is responsible for providing a broad range of actively managed investment strategies and solutions for individuals, pension funds and corporations. We strive to deliver the investment outcomes that our clients expect when they trust us with their money, through an investment approach that is team-based, globally connected, research-driven and risk-aware. We are equally committed to ensuring a rigorous approach to our corporate responsibility, which is underpinned by our values of Client focus, Excellence, Integrity and Respect. We expect to be held accountable to these Values in all we do.
Our EMEA corporate responsibility framework is managed by senior executives from across the business, reporting to the Business Management Committee, which is our key regional senior management and decision-making forum. Within this framework, objectives and initiatives are delivered by teams across the business.
Disclaimer: In November of 2021, Ameriprise Financial completed the acquisition of the European asset management business of BMO Financial Group (formerly known as BMO GAM (EMEA)), which is now part of the Columbia Threadneedle group of companies. The integration is ongoing, and there remains separate governance, processes and procedures between the legal entities. Here we generally describe the responsible business practices of Columbia Threadneedle prior to the acquisition. We will specify where processes have already been aligned or integrated, or where we refer to our combined capabilities.
Our corporate responsibility vision emphasises the core roles we play:
We strive to be a trusted partner to our clients, to innovate and to create positive impact.
We strive to be responsible stewards of our clients' assets within a framework of good governance and transparency.
We strive to be a values-led organisation that attracts, develops and retains the best talent.
We strive to be a responsible member of our community and influence positive change.