Integral to our investment philosophy
Responsible investment (RI) has long been integral to our investment research and decisions and our approach to business more broadly. The rationale for responsible investment is clear: companies with sustainable business models that look to the future have more potential to deliver value to all stakeholders, including shareholders. As a founding signatory of the United Nations' Principles for Responsible Investment (PRI), responsible investment has been an established pillar of our business for well over a decade.
At the heart of our RI approach is a strong research capability embedded within our investment process
Our research is supported by proprietary RI ratings that enable us to assess material Environmental, Social and Governance (ESG) risks and opportunities for over 8,000 companies worldwide
As active managers, engagement is key and we have a strong record in influencing positive change through stewardship and voting
We have a solid culture of collaboration that underpins our research and investment approach
We offer a range of dedicated RI strategies, including our innovative Social Bond franchise, for clients seeking to more actively promote ESG factors or achieve specific sustainable outcomes
We strive to be responsible stewards of our clients' assets, allocating their capital within our framework of robust research and good governance. The integration of ESG considerations within our research builds a fuller picture of the risks and future return prospects of all investment opportunities.
Collaboration enhances decision-making
Our dedicated RI analysts are integral to our global research team and share the same reporting line. Our research culture is embedded in our equity, fixed income, real estate, macro, and data science teams who continuously collaborate and share insights throughout the firm.This collaboration makes our investment decisions and stewardship activities more informed and makes it easier to identify material opportunities and risks that protect the clients' interests and the capital they entrust to us.
Identifying opportunities and risks: a thematic approach
In addition to the quantitative rating, our RI analysts also conduct a qualitative analysis of companies, sectors and themes concerning ESG and other sustainability considerations.  We focus on a subset of eight of the 17 UN Sustainable Development Goals (UNSDGs) that we deem the most material to investments. Our thematic research explores investor topics such as energy transition, human capital development, and carbon policy. This thematic research is always investment-focused and highlights risks and opportunities for sectors and companies from an RI perspective.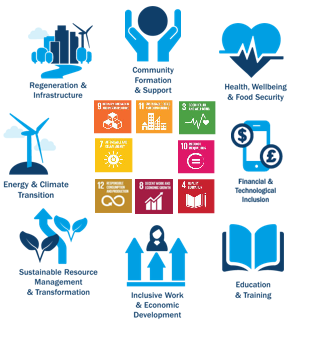 View our latest Responsible Investment Quarterly report here:
Q2 2021 RI Report (Retail)
Q1 2021 RI Report (Retail)
Q4 2020 RI Report (Retail)
Q3 2020 RI Report (Retail)
The main, potential negative effects on sustainability factors in investments based on criteria defined by European regulators.
Aggregate sustainability risk exposure
The overall sustainability risk faced by a company or portfolio, taking account of a range of issues such as climate risk and ESG factors.
Best-in-class strategies try to make their portfolios better on ESG issues and/or carbon characteristics by excluding certain investments deemed negative in that respect or including certain investments deemed positive in that respect.
The carbon emissions and carbon intensity of a portfolio, compared with its investment universe (benchmark). The benchmark might be, for example, companies in the FTSE 100.
A company's carbon emissions, relative to the size of the business. This allows investors to compare the company's carbon efficiency with its competitors'.
The risk that an investment's value could be harmed by climate issues such as global warming, energy transition and climate regulation. Investors normally assess climate risk by looking at carbon footprint data, climate adaptation risk, physical risk and stranded assets.
A company's operational failures or everyday practices that have severe consequences for workers, customers, shareholders, wider society and the environment. Examples are poor employee relations, human rights abuses, failure to follow regulations, and pollution. Controversies help to indicate the quality of a company.
The way that companies are organised and led. We look at how well companies are sticking to good practices set out in Corporate Governance Codes, which vary from country to country. Corporate governance is also part of the 'G' in ESG. In this context Governance may focus on the operational and management practices relating to social and environment aspects of the business.
Corporate Social Responsibility (CSR)
A company's approach to (and engagement with) its stakeholders and the communities it operates in, reflecting its responsibility towards people and planet.
The reduction of the carbon emissions associated with a region, country, industry or organisation. It can also refer to the reduction of the carbon emissions associated with a fund's investments.
The opposite of investment. In other words, either reducing or exiting an investment. We divest if we think the potential risks of investing in a company outweigh the potential returns. This may be because we have lost confidence in a company's leadership, strategy, practices or prospects .
Talking to members of the board or management of a company – a two-way process that we might initiate, or the company might initiate. We use engagement to understand companies better. We also use it to give feedback, offer advice and seek changes – including change relating to ESG and climate risk. Engagement also means consulting with government and collaborating with other investors to influence policy and shape debate.
The "E" in ESG. This covers a focus on significant environmental risks and their management. In a climate change context it is a focus on the risks associated with a business having to adapt to climate change requirements or the physical impacts of climate change. We also look at companies' environmental opportunities due to changing consumer demands, policy changes, technology and innovation.
Short for environmental, social and governance. Investors consider companies' ESG risks and how well they are managed. To do this, we use the Sustainability Accounting Standards Board (SASB) framework. Considering ESG gives us a different perspective on how good an investment might be.