Columbia Threadneedle Foundation works with inspiring charity partners to improve individual lives and drive long-term social change.
In 2021 our charity partners continued to deliver their vital work with our support, adapting services and focus to meet additional needs brought on by the Covid-19 pandemic.
AT The Bus provides school-based programmes of art as therapy to schools in London and Oxfordshire. In September the charity launched a new facility at The Cherwell School in Oxford, in a beautifully painted double-decker bus fully converted to accommodate an art studio space, space for sharing food and space for talking. Students from Cherwell will attend sessions in the bus with highly trained facilitators. Columbia Threadneedle Foundation joined supporters, headteachers, patrons and trustees of AT The Bus to celebrate the launch. Also in September, AT The Bus expanded its operation, opening a new studio at Barlby School in west London.
The Foundation also supported MASKED, a limited-edition portrait series shot to raise funds for AT The Bus. MASKED featured 24 leading figures in the arts, education, communications and law including Andrew Scott, Jenny Saville RA, Grayson Perry CBE RA, Joy Labinjo, Dawn French, Dame Zandra Rhodes, Sir Philip Pullman, Krishnan Guru-Murthy and Baroness Amos, all photographed wearing masks. The series by award-winning photographer Joanna Vestey explored the theme of communication, and each sitter was shown in their own space.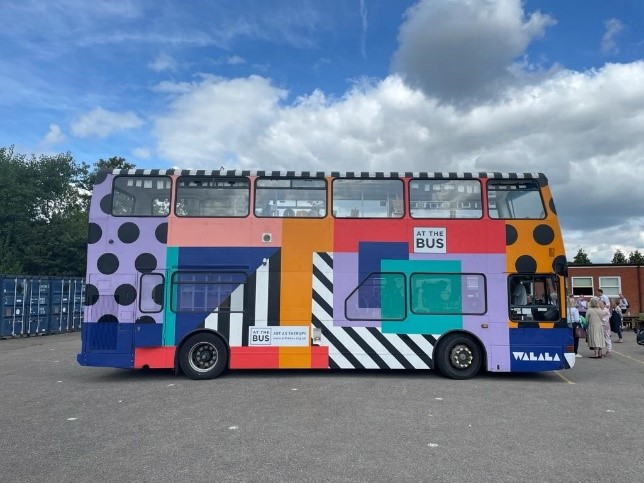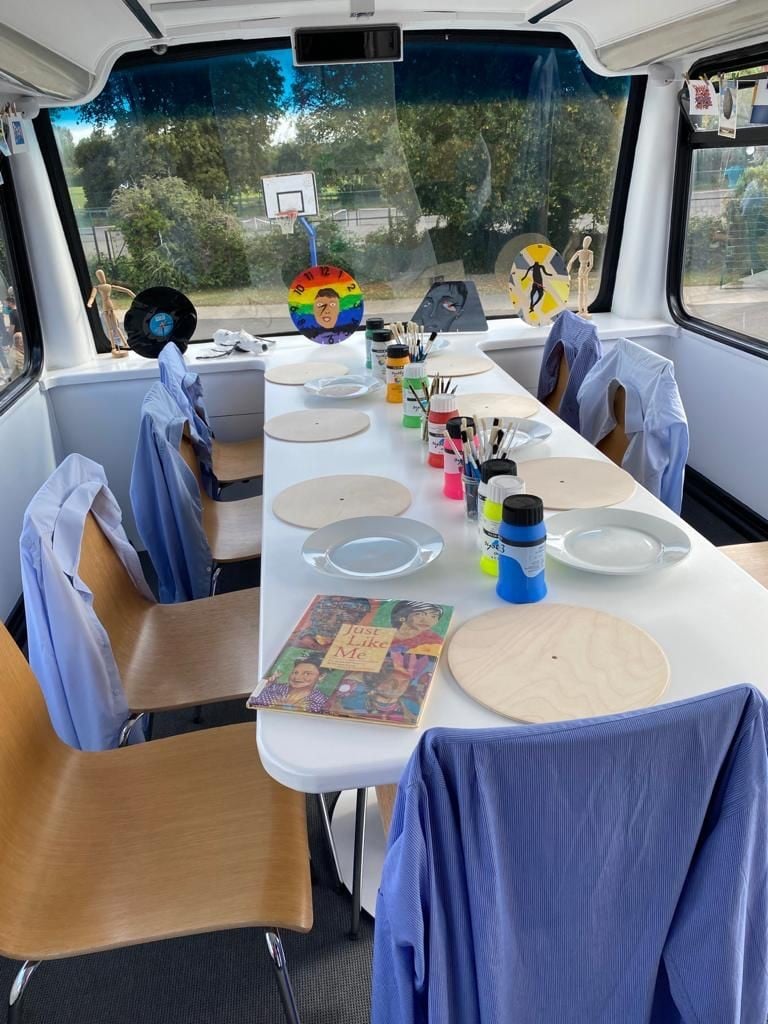 Access Sport aims to put inclusion at the heart of community sport across the UK, so that everyone, regardless of ability or background can take part in sport and physical activity. This is done through their own programmes as well as through working in cross-sector partnership with others at local, regional and national level.
In 2021 Columbia Threadneedle Foundation's funding helped support a number of Access Sport's disability inclusive community sports clubs, enabling disabled children and young people to be more physically active more frequently as Covid-19 restrictions eased. This included the launch of a new inclusive sports club, Shine Sharks basketball, and support for a number of other clubs to enable them to resume sessions, including Bristol Frame Running, Cray Wanderers, Southwark Inclusive Yoga and Greenwich Active Inclusive Play.
Access Sport has been working with a number of partners to establish and build BMX tracks to provide inclusive community cycling facilities. Our funding provided Summer Cycling Sessions at all-ability cycling facilities in Bexleyheath and Harrow, and is providing 100 young people from Bexleyheath schools with a BMX sessions for a term.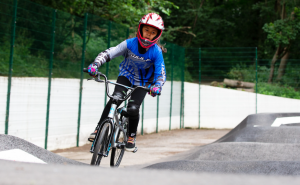 Bounce Back drives social mobility and provides an effective response to the entrenched issue of re-offending. Since 2011, the charity has worked inside prisons and in the community using an innovative prison-to-employment model to successfully train and support over 3,000 disadvantaged individuals.
Paid employment is a major factor in ensuring desistance and the charity focuses on equipping participants to be able to compete effectively for meaningful employment. Our funding supported a Community Case Manager (CCM), a critical part of an individual's journey from custody to release to employment. It also supported the hiring of a new training professional to increase capacity of those who can be trained by 300 people a year.
In addition to our funding, this year we provided further support to Bounce Back through a learning session with our marketing team, and worked with them on the charity's strategy and how to measure its business performance.
In 2021 Bounce Back delivered a powerful session on resilience for Columbia Threadneedle employees, with more than 140 employees joining the webinar as we began to emerge from lockdown. In the session, two Bounce Back ambassadors who are former prisoners – Chance and Nick – offered a different perspective on life, sharing invaluable insights on how to deal with change and master the art of moving on.
Our Real Estate business also supported Bounce Back during the year, helping to find new premises on Southwark Bridge Road, giving them the space they needed to set up their training centre (picture below).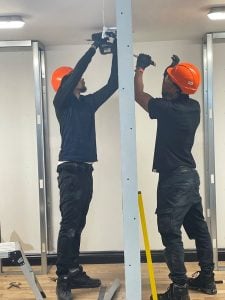 Clean Break, uses theatre workshops and projects in prisons and in the community to build confidence, resilience and wellbeing, transforming the lives of women who have experienced the criminal justice system or who are at risk of entering it. This year the foundation supported over 120 women to attend Clean Break's Members Programme, either virtually or in person, helping the women feel less isolated during the pandemic, improving their mental health and providing them with vital new skills.
In early 2021, we launched an innovative training course for female employees at Columbia Threadneedle, designed and facilitated by Clean Break. The course provides a creative space to help females advance within predominantly male dominated environments, including identifying strengths, developing confidence, addressing ways to overcome shared challenges and ultimately achieving greater impact. Employees work alongside Clean Break's Members, offering a unique space for learning and shifting perspectives. Close to 40 women from Columbia Threadneedle attended the programme during the year.
With lockdown restrictions impacting volunteering activity in the first half of 2021, the Foundation embarked on a partnership with Hatch Enterprise, a charity working with female and Black, Asian, and minority ethnic entrepreneurs to help them grow smart ideas into successful, sustainable businesses with a positive impact on their communities. Hatch provides a four-month skills training course that helps founders develop and launch their businesses. Our London employees volunteered as mentors and "Friendly Dragons" for graduates of the Hatch course. On 'pitch day' they hear sales, investment or elevator pitches, offer feedback on business ideas and presentations, and share knowledge, experience and networks to help the entrepreneurs overcome challenges and achieve business goals. Other Columbia Threadneedle volunteers are also providing an hour of 1-2-1 support on a specific business challenge for Hatch graduates – from how to attract funding to social media strategy and more
Sponsors for Educational Opportunity (SEO London) delivers superior educational, training and mentoring support to young people from underrepresented and underserved backgrounds. SEO London programmes cover the entire cycle of professional development, from pre-professional training to career access and long-term success within global industries. SEO London alumni then become mentors and trainers, passing on their industry experience to the next generation of students.
Our grant supports 'SEO Advance', SEO London's secondary school programme, which has allowed 50 students to participate in virtual insight sessions, training/personal development opportunities, work experience and mentorship. This year, in light of the impact of Covid-19, SEO Advance has allowed students to benefit from additional opportunities such as an economics and finance series, money management sessions, and tuition.
We have worked with SEO to host work experience and insight days to begin in the new year, as well as participating in their mentorship programme, allowing Columbia Threadneedle employees to pair up with a student mentee over the course of two years. In collaboration with the Columbia Threadneedle Gender Workstream we have also offered a place on our corporate training courses for SEO female alumni.